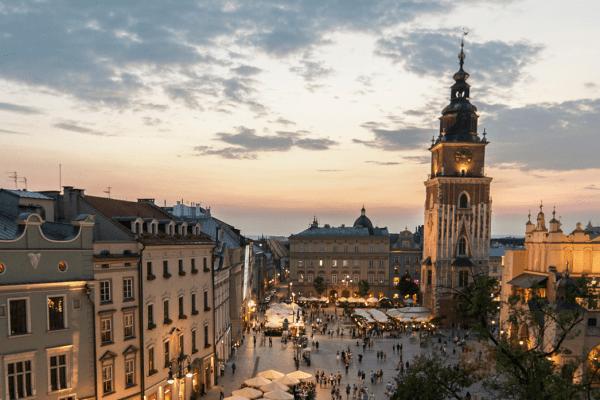 Contact details
Advisory Group TEST Human Resources
Registry data
TEST HR Spółka z ograniczoną odpowiedzialnością
ul. Zwierzyniecka 30
31-105 Kraków
NIP (tax identification number): 676-12-39-858
REGON (statistical number): 351107016
KRS: 0000964287
Number in the National Register of Employment Agencies: 113
How to get to our office?
Our office is located in the very centre of Kraków, nearly 500m from the Wawel Castle (see map). Below you will find some instructions on how to get to us.
When coming by car, please take into account traffic and scarce parking space. You may park the car in the parking zone subject to charge, which may be paid in the parking meter or you may use one of the nearby car parks:
Parking Podziemny ul. Plac na Groblach 24
Hotel Sheraton ul. Powiśle 7
If you are coming by bike or scooter, you may leave it in the outdoor parking racks in the yard.
Public transport may prove the fastest way to get to our office. There are both tram and bus stops marked as "Jubilat" stop, no more than 250m away from our office.
Any questions concerning the processing of your personal data or the way in which it is processed can be sent directly to our Data Protection Officer at iod@testhr.pl
Note: The message should be sent from an address, which will make it possible for us to identify you. This way we will make sure that the information sent back to you, regarding your personal data, will not reach anyone else, for example a person impersonating you.
Any problems with sending your CV or something does not work properly on our websites or web applications – you can send a message directly to the people responsible for IT in our company: hello.it@testhr.pl
Note: Please do not attach documents (e.g. CVs, motivation letters, other documents) to your e-mails, as such messages are automatically deleted – /dev/null 😉
The data controller of your personal data is TEST HR Spółka z ograniczoną odpowiedzialnością with the registered office in Kraków at ul. Zwierzyniecka 30. Your personal data will be processed for the purpose of processing information submitted by you, replying to you, and taking action resulting from your query. The data will not be shared with other entities, except for the entities authorised under the law. The basis for the processing of your personal data is your consent or your sending an e-mail to us. The personal data will be stored until the actions resulting from your query will have been completed. You have the right to:
request from the controller access to and rectification or erasure of personal data or restriction of processing as well as the right to data portability;
withdraw consent at any time. The withdrawal of consent shall not affect the lawfulness of processing based on consent before its withdrawal.
lodge a complaint with a supervisory authority (PUODO).
Providing personal data is voluntary but it is necessary to send a query.